What is GADDEN? GADDEN is the largest career fair within the Nordic region for business, economics, law, logistics and environmental science studies. This annual event usually takes place at the School of Business, Economics and Law at the University of Gothenburg, and has been growing constantly since the first fair took place in 1982. Last year, the fair was held digitally for the first time ever, which also meant new challenges and opportunities. GADDEN is the largest project of the student union (HHGS) with the aim of opening a line of mutually beneficial communication between students and potential employers. In addition, we strive to nurture long relationships for mutual growth. 
Are you and your company interested in exhibiting or being seen at the GADDEN fair? Or do you want more information about what it means? Whatever the reason, you are warmly welcome to contact one of us in this year's committee.
Welcome to GADDEN 2021!
Kind Regards,
Fanny Söderström, Project Manager
Andrea Axelsson, Vice Project Manager and Financial Manager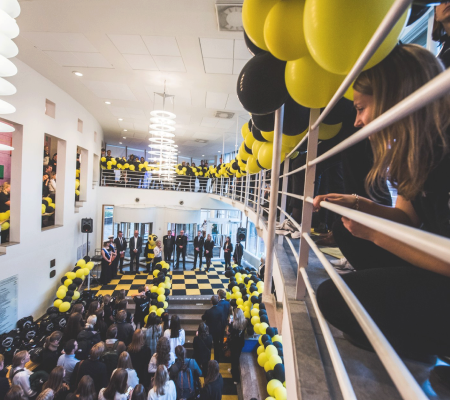 The career fair GADDEN at Gothenburg School of Business, Economics and Law is Scandinavia's largest career fair for students within the fields of business, logistics, law and environmental science. GADDEN is a two-day career fair with about 100 exhibiting companies and organizations, as well as approximately 6000 visitors. GADDEN 2020 took place on the 11-12th of November. GADDEN is the ultimate platform for students and companies to network and create important relationships for the future. In addition, many inspiring lectures take place during this exciting fair, all available for you to attend. These two days in November both end with inspirational evening activities: a mingle event and a grand banquet – events you don't want to miss!
GADDEN is the largest project of the university and is organized entirely by its students. The project committee consists of seventeen students that work for nearly a whole year to organize and structure this extensive career fair. Throughout the year, GADDEN holds numerous events at the university, several of which are arranged together with our main partners EY and Handelsbanken. In 2017, we left earlier printed exhibition catalogs behind and took a step into the digital world by launching the GADDEN-app. This decision was based with the focus of becoming more sustainable and, in 2017, we also became a completely vegetarian fair.
Every year, GADDEN has a theme that sets the tone for this annual happening, but especially the two days of the career fair. The theme of 2021/2022 is "Embrace our opportunities". More information about this can be found below "This year's fair – This year's theme" .